Sale!
Thrive Powerful Massager
KSh 49,502.00
This Massager Combines a vertical motion with an irregular rotary motion which raises massaging effects.
Powerful, irregular vibration gives the same effect as your skillful hands do, enabling the unit to do the job with almost explosive speed.
 A massage with the heat is more effective for the treatment of stiffness and fatigue. The temperature of the heating part rises up to 55' C (131; F)
Hot and Cool of heating part is changeable with a switch of the unit.
Designed for long use, it can be used with absolute safety, anytime and anywhere.
Description
Thrive Powerful Massager is designed to help relieve tired to aching muscles. Improve circulation & relieves Pain. It has a light weigh designed and unique shape that is perfect for anyone.
This massager combines a vertical motion with an irregular rotary motion which raises massaging effects. This product can clear blood vessels, the twig of the capillary vessel in particular. Blood circulation will be promoted immediately and vibration relieves you muscle from fatigue, beautiful and firm you skin.3 interchangeable heads soothe all areas of the body and vibrating massage Hand-held Thrive Massager Professional massage to restore pozvonochnika, activating cells, improving the immune system, for training, internal organs, etc. Continual use of the massage device reduces back pain, lower back, neck, pain, osteoarthritis, arthritis, etc. Applies as for cosmetic purposes – wrinkles eliminates fat deposits including cellulite. Its impact can be both gentle and fairly strong, but always very soft.
Thrive Powerful Massager:
Powerful
Irregular vibration
Heated massage
Absolute safety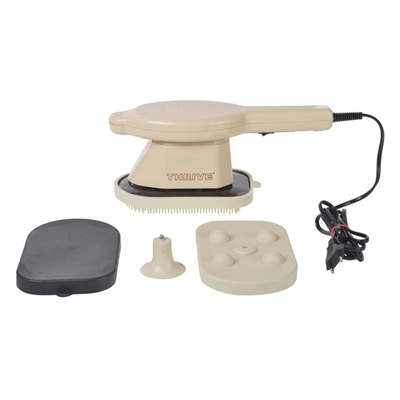 Contact us here
No more offers for this product!
General Inquiries
There are no inquiries yet.